We highly recommend the following Wisconsin and national wedding vendors*:
Rent your tux from Generation Tux.
Receive 20% off the entire wedding party when you rent from Generation Tux. All you have to do is enter in code at Generation Tux: JCPHOTO.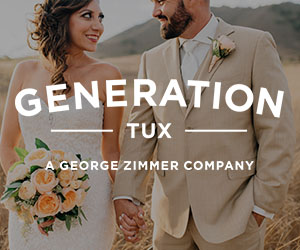 Let G-KMedia capture your special moment on film.
Mention JCreativeStudio when contacting G-K Media and receive special discounted rates.
Create your own wedding registry on Amazon.com for FREE!
The amazing thing is that after your wedding, you get a one-time coupon for 10% off select item (click banner to learn more) across amazon.com.
---
*Disclosure for Affiliate and Associate Programs: Full disclosure... If you happen to purchase products/service from one of our trusted partners, JCreativeStudio might receive referral dollars. Please note that all of our partners are professionals and will provide you with excellent customer service. JCreativeStudio promises not to endorse anything that we do not personally believe in. We will share our opinions openly, however we do encourage you to take due diligence before purchasing any service or product. Thank you!