Photo Booth - Frequently Asked Questions
---
What Makes Your Photo Booth Entertaining, Fun and Unique? All of our photo booths are custom designed and provide guests of all ages to get crazy and have fun. Anyone can strike a pose and let down their guard in front of the camera, it's pure fun and excitement. To add to the fun factor we can also provide props for unique photo looks, scrapbooks for photos and guests to sign and a kiosk for uploading immediately to Facebook or Email (internet connection required).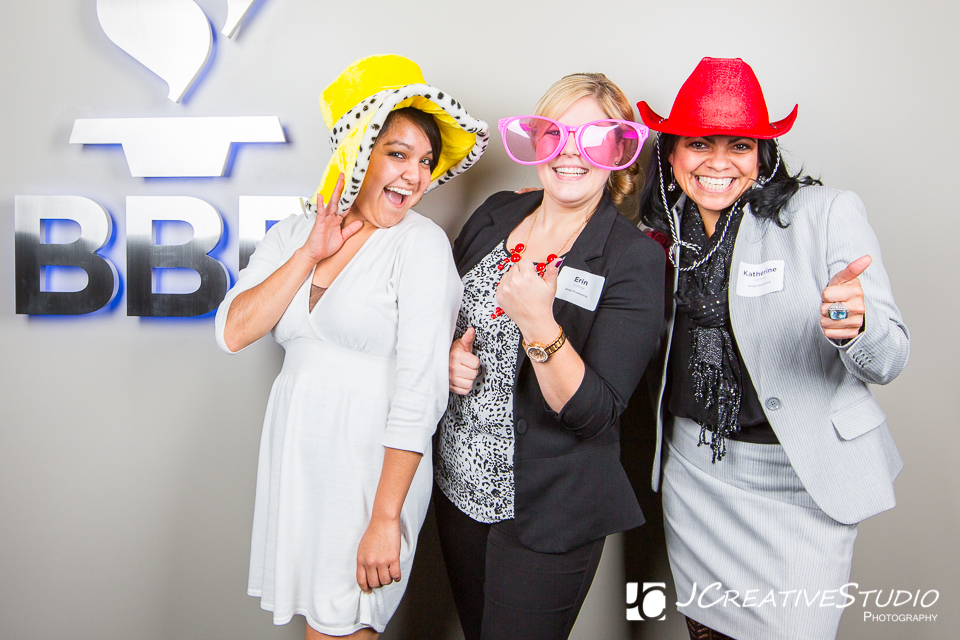 Is your Photo Booth Enclosed on All 4 Sides or Open? Our photo booths are open space/air.
My Event Photographer Said He Can Setup A 'Photo Booth', How Is That Different? With our photo booths, we focus on designing unique custom photo booths that complement your event. We also provide high quality prints immediately at the event when most event photographers images are only viewable on the web after the event is over.
Can I Get The Original Camera Images? Yes, the original digital files of the event can be purchased on USB Flash Drive.
Can We Customize The Backdrop? Yes you can! We have everything from Red, Teal, Blue, Purple, Pink, White, and Green. Custom printed backdrop with your companies logo or Green Screen provides an opportunity to put any type of scene in the background. We have a selection of background options to match the theme of your event.
What Are The Sizes Of The Printouts? A 2×6 strip or 4×6 print is included in our standard package. You can also upgrade to other sizes.
Can You Create A Custom Designed Print For Our Event Including Borders With Custom Graphics? Yes, we will customize a text graphic for you which can include names, dates, logos, custom colors, etc. on the photo booth prints.
How Many Photos Does Your Photo Booth Take? We can set it up to take 1-4 pictures per group at your event. Remember, 4-pictures will take longer for each group and will shorten the total number of group pictures taken at your event, also with the 4-picture option the images will print smaller.
Do My Guests Have To Wait 3-5 Minutes For The Prints? No, our photo booth is completely digital and takes approximately two minutes per group (including printing). This reduces the waiting time for your guests! The original toxic, chemical-based photo booths typically take 3-5 minutes just for the printing alone! Our print is a waterproof image in less than 45 seconds that will be a keepsake photo for years to come.
Can We Choose Color, B/W or Sepia Tone Prints For Our Event? Yes, prior to your event you can choose color, black and white or sepia tone – it's your choice, just let us know.
What Are The Quality Advantages Of Your Photo Booth? Our photos are produced with a professional digital camera and high quality lighting. The image quality allows for reprints and enlargements. Our photo booth produces the best quality prints that comes out completely dry on water resistant paper. (Professional Lab Dye process, not inkjet).
Why Is Your Photo Booth Better With Group Shots? Many photo booths are small and only have one fixed stool (designed for a single-person head-shot) and don't do well with groups of more than 2 people as the third person's head gets cut in half. JCreativeStudio's Photo Booth can accommodate larger groups (3, 4 or 6+ people) which is not only more fun, but can handle more people in less time.
Do We Have To Use A Bench In The Photo Booth Or Can We Have The Photos Taken Standing Up? It's up to you. A bench is beneficial for larger groups and also when there are tall and short people (including children).
Is Your Photo Booth Compact And Portable? Yes! Many photo booths weigh over 700lbs and are too large to fit through doors – limiting their location usability. When broken down our photo booth can be taken upstairs/downstairs and through small entryways with no problem.
How Will We Know If Everyone Will Fit In The Picture? For our iClick photo booth, a live view monitor is in the photo booth to show you exactly what the camera will record before it takes the picture so your group can adjust their positioning if needed. For our larger customized or green screen photo booths, our onsite photographer will guide to ensure that everyone is in the frame.
How Do You Know When The Photo Is Going To Be Taken? A countdown (3…2…1) will appear on the screen just before the image is taken.
How Much Space Is Required? For our iClick photo booth we require a minimum of 3.5′W x 5′L. For our custom photo booths, the space needed is 6′W x 10′L or 8′W x 10′L.
How Many Hours Will I Need For My Event? It really depends on the number of people in attendance, the type of event, etc. Contact us to discuss the details and your exact requirements.
What Are Your Photo Booth Rental Charges? Pricing for your event is based on a consecutive hourly rate depending on the date, location and specific requirements. Call or e-mail us for a custom quote. Minimum hours may be required for prime-time, Saturday, and weekend event dates or long-distance locations. There is no additional charge for time prior to the event when we are setting up the booth or after the event when we are taking the booth down.
What Do You Require For Booking The Photo Booth? A 50% non-refundable deposit with the contract holds your date. The full balance is due 1 days prior to your event day.